Explore & Fly
GEO-Expedition Nepal 2013/2014 & Airborne Measurements with a research aircraft s10 VT (D-KNFH)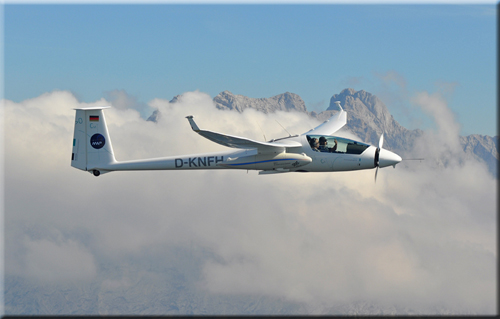 After two expeditions to the Andes the MWP Team is now in the process of planning a research mission to the Himalayas. In a time window of Oct-Dec 2013 two Stemme S10 will fly over the Himalayan Mountains (flight region Annapurna- Mt.Everest). The integration of new research group ( German Aerospace Center) will enhance the knowledge of topographical survey with new optic systems concerning digital surface modelling and glacier monitoring. In planning are a field experiment and a mess campaign with daily cross- section airborne measurement-flights (with MWP research Stemme S10 VTX D-KNFH) towards the Himalaya-Crest in an altitude level between 2.000-13.500 m MSL. The second Stemme S10 of Klaus Ohlmann will be used as an escort plane for SAR and exploration flights in own responsibility (Quo Vadis International).
With all the scientific partners the MWP acts as a co-ordinator and advisor for this FIELD MEASUREMENT CAMPAIGN "NEPAL 2013/2014".
Objectives are going to be once more measurement of turbulence parameters in and above the highest valleys and mountains, vertical momentum transfer and the diurnal anabatic flow in the complex terrain. Investigation of ozone and carbon dioxide levels is also being considered.
We also plan to carry out some measurements over some of the glaciers using airborne optical methods (DLR-MACS). This part of the expedition is in scientific co-operation with the German Aerospace Center (DLR), Flinders University in Adelaide, Australia and the International Centre for Integrated Mountain Development (ICIMOD), Nepal. The collaboration with ICIMOD ensures that the results from our studies will be used for applications relevant to Nepal in terms of GEO-hazards and risk management.

The main purposes for the planned MWP-Expedition to Nepal in 2013/2014 are:
To study the structure of mountain waves generated by extreme topography
To study the occurrence and structure of possible rotors underneath the mountain waves, and their interaction with the waves
To study the spatial and temporal extent of turbulence related to rotors and overturning mountain waves
To study the transport of atmospheric pollutants (gases and particles) between the valley air and the overlaying free atmosphere, as well as their transport into the Stratosphere (if possible)
To study the distribution and transport of atmospheric pollutants in the valleys of Nepal
To determine the surface shapes and structures of some glaciers in the high mountains
To study the existence, status and health of vegetation in the high mountains and valleys
To investigate potential hazards to aircraft caused by orographically influenced and generated airflow in the extreme terrain of Nepal
To study physiological effects on aircrews operating in highly turbulent conditions and at high flying altitudes
To test the capabilities of a 3D-capable aerial camera for surveying extreme terrain
Envisaged instrumentation fitted to the research aircraft for these investigations are:
A full suite of atmospheric sensors plus aircraft instrumentation capable of measuring – at high accuracy - air pressure, air temperature and humidity, 3D-wind and turbulence, 3D-aircraft navigation parameters, aircraft attitude, true air speed, etc.
Specialised aerosol, particle and trace gas sensors (in co-operation with KIT/IASS)
Instrumentation monitoring physiological parameters of the crew (blood oxygen level, heart rate, breathing rate, etc)
A special 3D-camera system (DLR-MACS)
Our studies will also yield considerable and direct benefit for aviation safety by developing special regional turbulence forecast tools which will be freely accessible to the relevant authorities in Nepal.
Other, more general benefits of our envisaged studies of glaciers and other landscape features are useful for hydrological and geophysical applications, such as landslide prediction. The production of a high resolution 3D-elevation model will allow a new approach for Nepalese scientists and agencies in their geophysical research activities.  
Glacier monitoring (i.e. Stubai Glacier) flown with DLR-MACS (MWP test flight -airfield Ohlstadt 21/08/2013), copyright: DLR
An additional co-operation is planned with the Institute for Advanced Sustainability Studies (IASS) in Potsdam and ICIMOD in regard of the project Sustainable Atmosphere for the Kathmandu Valley (SusKat),
 For the atmospheric research and turbulence forecast we are using the relocatable non-hydrostatical model COSMO-DE with 2.8km

Wave forecast (vertical wind, 16/04/2013, 500hPa)
and for airborne measurements the Best Aircraft Turbulence Probe (BATprobe) and z_probe for 3D-wind and turbulence (TKE)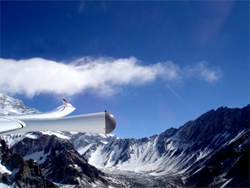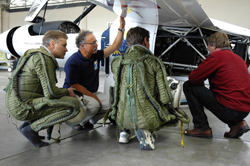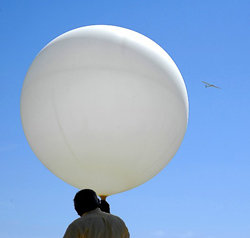 IN SCIENTIFIC CO-OPERATION (planning process) WITH
- THE FLINDERS UNIVERSITY OF SOUTH AUSTRALIA / AIRBORNE RESEARCH AUSTRALIA, ADELAIDE, AUSTRALIA
- FH AACHEN - FACULTY AEROSPACE TECHNOLOGY
- GERMAN AEROSPACE CENTER (DLR)
- CENTRE OF AEROSPACE MEDICINE GAF
- INSTITUTE FOR ADVANCED SUSTAINABILTY STUDIES (IASS) POTSDAM
- INTERNATIONAL CENTRE FOR INTEGRATED MOUNTAIN DEVELOPMENT (ICIMOD) - REGION NEPAL
- KARLSRUHE INSTITUTE OP TECHNOLOGY (KIT)
- PHILIPS UNIVERSITY MARBURG
-------------------------------------------------------------------------------------------------------------------------------------------------------------------------
Project steps
- First Site Visit - Lhasa 2010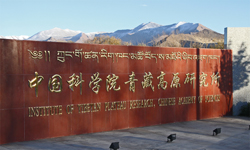 Because of an invitation of the Chinese Academy of Science (CAS) a part of the mwp-team has been in Tibet in October 2010. Main topics were the key aspects of the common research missions on the Tibet Plateau, a lecture of the MWP-director Rene Heise at the Insitute of Tibetan Plateu Research in Lhasa and a fact finding tour from Xigaze to Tingri. The Team has found several emergency outlandings fields and got some impressions of anabatical flow systems. Due to a strong southwesterly upper airflow over the Himalayan they have been observed few rotor systems in the leeside of Mt. Everest. See also TV-feature at channel 3Sat
- MWP- lecture Dec 17, 2012 - International Club of Federal Foreign Office (more ... )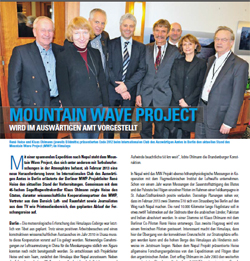 - Working visit of Rene Heise in Berlin (Federal Foreign Office) - in regard of a close coordination of the research project with the German Embassy in Kathmandu and the Ministries in Nepal.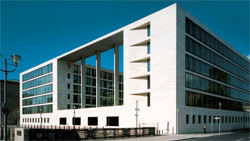 - Simulator training in regard of SID/SIA Kathmandu (VNKT) -Flight Academy ARDEX Kyritz, Febr 6, 2013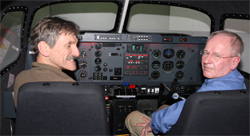 - Test flight (Pilot Phillip Scheffel) with the research aircraft Stemme S10 incl. POD-system over Strausberg (closed by Berlin) March 25, 2013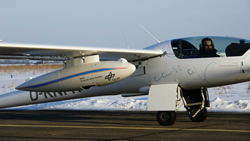 more information - see MACS-website German Aerospace Center (DLR)
- Test flight with the MWP-research aircraft S10 VTX (Pilot Jona Keimer) over the Stubai Glacier, Aug 21, 2013, airfield Ohlstadt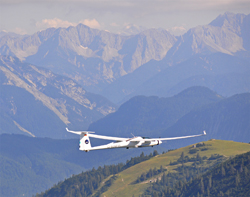 - Sept, 19 - high altitude training in a hypobaric chamber (test with pulsoxymeter Peter Dahmann, Rene Heise, Jona Keimer)
- Oct, 07-11 Official working visit of Rene Heise in Kathmandu - consultation with ICIMOD, Ministry of Home Affairs Nepal and Ministry of Tourism and Aviation- issue of the Memorandum of Understanding (draft) with ICIMOD and of a comprohensive proposal (special thanks go to our POC Dr. Arnico Panday (ICIMOD) and Mr. P.Raj Bhattarai (Ministry of Foreign Affairs)))
- Oct, 13 Take off of D-KKOP (Crew K. Ohlmann, A. Soila, privat aircraft of Quo Vadis International) at Strausberg (EDAY; Germany)- explorer tour- looking for the optimal route for the following MWP-research Stemme KNFH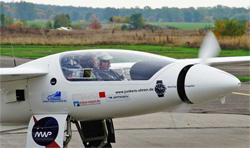 - Oct, 29 Take off of the MWP research aircraft D-KNFH (Crew Sidonie Ohlmann, Jona Keimer) of FH Aachen at Strausberg (EDAY; Germany) ; see also Tagesschau24/RBB- TV newcast
- Nov, 1 Successful landing of the D-KKOP with Klaus Ohlmann/Anssi Soila at Kathmandu (VNKT)
- Nov, 7 Meeting with Rene & Klaus at the Civil Aviation Authorithy of Nepal at Kathmandu
- Nov, 9 Arrival of first team-members at Pokhara
- Nov, 11 Successful landing of the MWP Stemme S10 VTX D-KNFH with Sidonie Ohlmann/Jona Keimer in Kathmandu
- Nov 12-15 AIP NEPAL seminar for pilots in Kathmandu
- Nov, 15 Briefing for newcomers and for the press in Pokhara
- Nov, Continuation of the approval process by Klaus in Kathmandu and installation of the base in Pokhara by Rene
- Nov, 24.-28.; Explorer tour of the TV -editor and Rene in Mustang ( observing of the diurnal anabatical airflow trough the Kali Gandaki Valley and of wave patterns, identification of turbulence areas, looking for outlanding fields). Consultation with ATC in Jomsom and first in-flight measurments (high altitude physiology).
- Dec, 9; Conferring of the official permission for the MWP campaign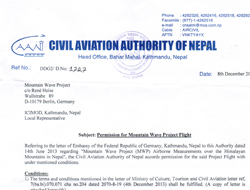 - Dec, 10- explorer flights of Klaus over the Annapurna-Region and over the mountain ridge of Himalaya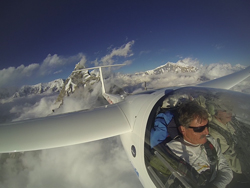 - Dec 15 - due to the n'ly wind good wave patterns were predicted over Nepal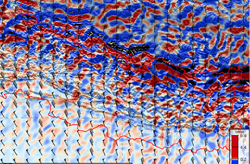 Jan, 14 2014 start of the MWP field measurement campaign
Sustainable Atmosphere for the Kathmandu Valley
The first subproject in regard of MWP mess campaign was planned as a first overview of the vertical distribution of aerosol pollution over Nepal. We could demonstrate that small environmental aircraft are indeed a suitable tool for such measurements with profiles over the cities of Kathmandu, Pokhara, Bhairahava and Bharatpur. Also two flights over Baglung and the Kali Ghandaki valley up to Jomson were performed to investigate the inflow of polluted air from pre-Himalayan lowlands into the high mountain areas. Based on the result of this preliminary study further measurements are now planned for the next dry season (2014/2015) with more frequent surveys under different meteorological conditions. The project is closely linked to the international Project SUSKAT on air pollution in Kathmandu and is performed in cooperation with ICIMOD, Kathmandu, IASS, Potsdam Germany and KIT, Garmisch-Partenkirchen, Germany. Fore more details please contact Dr. Wolfgang Junkermann - Institute of Meteorology and Climat Research - Atmospheric Environmental Research
Photo: Shradda Dhungel
- Jan, 17 start of the measurement program (physiological data pulse rate, blood oxygen saturation) with a mobile system for data monitoring, handling and analysis with an inflight configuration
Flight Crew Ohlmann/Heise 20/01/2014 - Annapurna Region
DLR -Mission with MACS (Glacier Monitoring)
- first Testflight with DLR-MACS Crew Keimer/Heise 23/01/2014 over Kali Gandaki Vally/Annapurna-region
- Mission Jomsom - Mustang - Flight Crew Keimer/Heise 27/01/2014
- Mission lower and upper Seti Valley Crew Ohlmann/Keimer 26/01/2014 & 29/01/2014
- Mission glacier monitoring in the vicinity of Mt. Everest Crew Ohlmann/Keimer 28/01/2014

- see also video over the glaciers of the Mt. Everest-region in a STEMME S10 VTX (HD-Version)
Jan, 29 MWP Mission Nepal 2013/2014 successfully completed!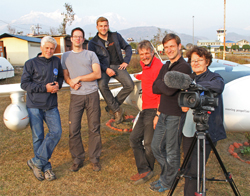 Rene Heise (MWP-director); Daniel Hein (DLR); Jona Keimer (Pilot KNFH); Klaus Ohlmann (MWP chief pilot); Joerg Brauchle (DLR); Heiderose Haesler (RBB -TV)
Jan, 30 - Presentation of first joint working results at ICIMOD in Kathmandu
DLR scientist Joerg Brauchle in discussion with the glacialist about the Khumbu Glacier; the special thank of MWP goes to the IICIMOD-Director General, Dr. David Molden
- see also the information of the German Embassy in Kathmandu
May, 22 - Presentation of first results at the International Aerospace Exhibition - ILA Berlin 2014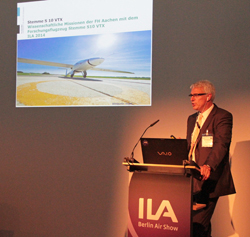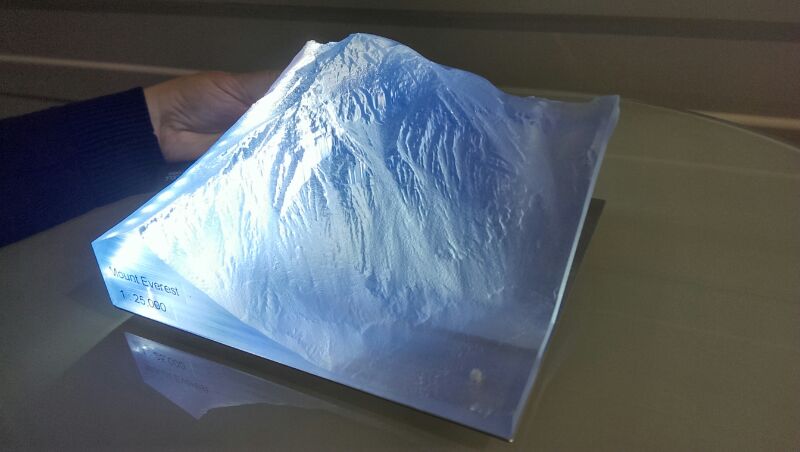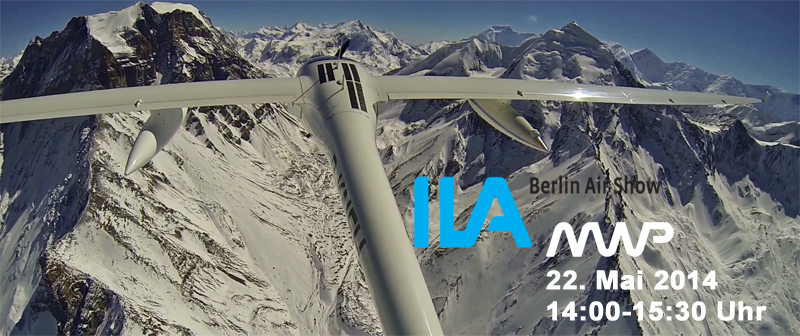 August, 4, - Lecture Rene Heise at the XXXII. OSTIV Congress during the World Gliding Championship in Leszno (Poland)
More informations ... and abstract ( PDF )
December, 11, 2014- rbb-preview scientfic tv feature about Himalaya expedition at Minister Garden of Berlin
with a lecture about the First Himalayan Soaring Expedition 1985 (Alvaro de Orleans - Borbon (FAI) & Bruno Neininger)
Press- Links
Papers
Heise, R. (2017). Birds, Gliders and Uplift Systems over the Himalayas. In H. Prins & T. Namgail (Eds.), Bird Migration across the Himalayas: Wetland Functioning amidst Mountains and Glaciers (pp. 229-240). Cambridge: Cambridge University Press. doi:10.1017/9781316335420.018
Ohlmann, K. (2017). The Wind System in the Himalayas: From a Bird's-Eye View. In H. Prins & T. Namgail (Eds.), Bird Migration across the Himalayas: Wetland Functioning amidst Mountains and Glaciers (pp. 219-228). Cambridge: Cambridge University Press. doi:10.1017/9781316335420.017
----------------------------------------------------------------------------------------------------------------------------------------------------------------------
Nepal - MWP Aircraft's
Our special thank goes to the STEMME AG (esp. Peter Ellwanger, Andreas Hebner, Michael Kaiser, Phillip Scheffel, Thorsten Zillmann)
Core Team
Dr. Joerg Hacker (MWP- chief scientist)
Dipl.-Met. Rene Heise (MWP- director and head of research expedition) *
Klaus Ohlmann (MWP- chief pilot) *
Extended SUPPORT Team and co-operative SCIENTIFIC participants
- Dipl.-Ing. Joerg Brauchle (German Aerospace Center- RMC- opt. systems) *
 - Prof. Peter Dahmann (FH Aachen)
 - Dipl.-Ing. Christine Gammel (Center of Aerospace Medicine GAF) *
- Dipl.-Ing. Andre Gens (Center of Aerospace Medicine GAF) *
- Dipl.-Inf. Daniel Hein  (German Aerospace Center RMC- opt. systems) *
 - Philipp Hilker ( Pilot in order of FH Aachen-outgoing flight Kathmandu - Aachen) *
- Dr. Wolfgang Junkermann (KIT) *
 - Jona Keimer (Pilot KNFH) *
 - Jürgen Knüppel with Michael Meyn (preparation oxygen supply)
- Rene Lancelle (logistical preparations)
 - Dr. Carla Ledderhos (Center of Aerospace Medicine GAF) *
- Sidonie Ohlmann (Pilot in order of FH Aachen - outgoing flight Germany-Nepal KNFH) *
 - Anssi Soila (Co-Pilot of Klaus Ohlmann/Quo Vadis International outgoing flight Germany-Nepal KKOP) *
* participants in Nepal
Supported by


---------------------------------------------------------------------------------------------------------------------------------------------------------------------
Informations about the last expeditions
MWP-Expeditions (1999-2010)
- ARGENTINA '99: Base San Martín de los Andes (Argentina); some flights above 1,000 km, a record flight (1,550 km) of Klaus Ohlmann up to Fireland (Rio Grande), the southernmost glider flight in the World, measurements of momentum transport in waves. (more... rbb TV documentation RODEO in the Sky- research for greater flight safety)


- SERRES (France) & JACA (Spain) 2003: Measurement flights of southerly wave conditions in Provence, additionally wave flights under stormy weather conditions in the Lee of Pyrenees - Rene Heise (more... rbb TV documentation RODEO in the Sky- research for greater flight safety)

- OPERATION MENDOZA 2006: Base Plumerillo (Argentina); Measurement Campaign at invitation of the Fuerza Aérea Argentina (Argentine Air Force), Flights with BATprobe up to 12,500 m height over the cordillera of the Tupungato-Aconcagua region. Measurments i.e. of turbulent kinetic energy, vertical momentum transport, vertical wind (more... ARTE 360° GEO TV documentation )

- TIBET 2010 site visit: Presentation of the MWP field campaign in Lhasa (China) and concerning a co-operation with the Chinese Academy of Sciences and their Institute of Tibetan Plateau Research. Exploration of emergency landing strips along the route Shigatse - Tingri (Rene Heise & Klaus Ohlmann); more... TV documentation 3SAT NANO )