Closing event (MWP 2012) at the International Club of Federal Foreign Office in Berlin
- meeting regarding exploring expedition in Nepal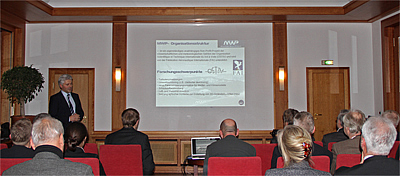 With a new expedition to Himalaya the MWP meets a challenge in 2013. For this reason Rene Heise invited members of scientific co-operation
institutes, representativs of aviation / aerospace, journalists and staff members of Federal Foreign Office in Berlin. In the scope of the project he explained the scientific objectives and the actual status ot the preparations. The departure of two Stemme S10 VT in Strausberg to Kathmandu (Nepal) is planned in the middle of February and depends on overflight permissions now. After an inproccessing in Kathmandu the MWP will be based in Pokhara (VNPK). The performance of the research platform Stemme S10 VT MWP will allow flights in thermal and wave lifts over the Himalaya. On the base of actual upper wind charts and wave forecasts Heise exemplified the challenge for the team. In this connection record pilot Klaus Ohlmann reported about the high altitude wave flights and outstanding flights over the Andes.
In addition the discussion centered at scientific airborne measurements with a new optical system of the German Aerospace Center (DLR). This data will be used for a special 3D elevation model of mountain ranges. This measurements provide GEO-risk managment, glacier monitoring, land slide risk considerations and a changing of alpine rescue systems.

Lecture Rene heise and Klaus ohlmann
" Mountain Wave Project: airborne measurements and record flights over the Andes with the research platform Stemme S10"
Mr. Dr. Reiner Stemme thanked for the co-operation with the MWP and for the impressive representation of Klaus OhLmann regarding the adventures with the S10 VT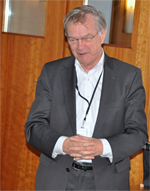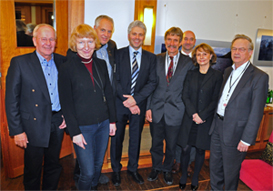 Reiner Sahm enriched the event with his amazing panorama photos - soaring over the Andes